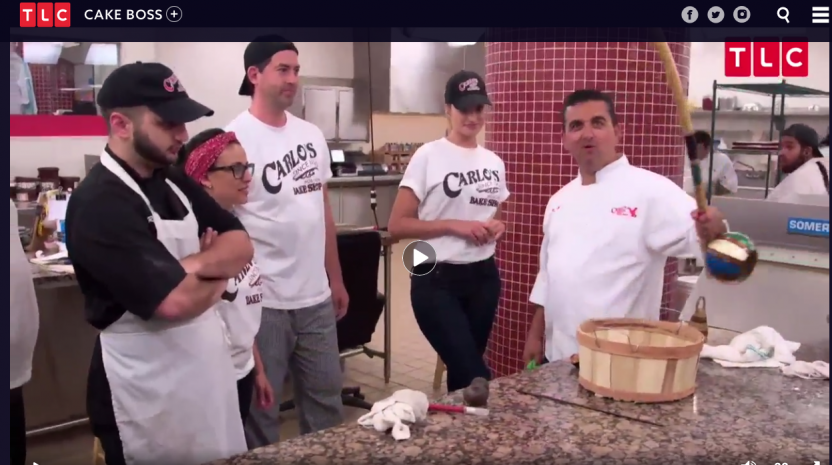 Who would have thought? Capoeira on Cake Boss?
As any capoeirista who is trying to grow their group can attest to, getting exposure for capoeira is of paramount importance. When the Afro-Brazilian Cultural Center of NJ and Capoeira Guerreiros was featured on national TV on TLC's Cake Boss (Series 8, Episode 21), we had to speak with Contra-Mestre (CM) Gaivota.
Congratulations on being on Cake Boss! When was this footage taken?
CM Gaivota: This was shot in 2016 in preparation of our 2016 April batizado.
When was it aired?
It was only recently aired in the US, as we were part of 8 episodes that were under a network dispute in the US. It actually aired first in Europe and South America and it was really funny to get messages from friends all over the world who had seen the episode and I had not.
Did you get to view it before it was aired?
I was sent a 30 second clip from the producers, but that was only to identify the music that I was singing.
How did they find you?
We have been very fortunate that our website has generated every TV spot that we have participated on.
Did you actively go out and ask them to have you on the show?
We were considered along with 3 others and I was sure we would not be chosen. We wanted them for our graduation that year and since we had a very short window of opportunity for filming I thought they would choose one of the others. We had no flexibility in our timing to change the date to give them more prep time and we also couldn't offer them flexibility in filming. They basically had to work the entire production around our event schedule.
How do you think this coverage helps the Capoeira community, aside from greater exposure?
It showed all aspects of the art from a class to an event but also included my commentary on the history and the Brazilian interns' comments on their country.
Is Buddy really like that in person/off-camera?
The man is completely personable. He is actually that warm and friendly. We had a bunch of guests from Brazil that year. They love him in Brazil and he spent time with all his fans.
What was it like with all of the lights and cameras? How was it, to work with the film crew?
Everything was in 1 take. There were no re-shoots. The crew set up, we did what we do. I think the real praise it to the editing team.
If there was anything you could change about the episode, what would it be?
I would have taken that berimbau off the top before the cake left the room to be served to the crowd!
The cake looked amazing. I know inquiring minds would want to know… Did it taste as good as it looked?
That was without a doubt the best cake I have ever had. Fresh passion fruit! The other question people ask is how much was it. The value was $6000. We paid nothing by being on the show.
Is there anything else you'd like to add?
I encourage projects like this that include more than just flips and moves. It is great to have people see the art, but better when it comes with an explanation. I would love to have them come back next April in 2018 to make a cake for my formatura to mestre.
To see part of the episode, click here. To see the teaser of the episode on YouTube, click here.
A little about Contra-Mestre Gaivota:
Contra-Mestre Gaivota started capoeira in Bahia in February of 1999. Drawn to its beauty and mesmerized by its history, this professional fighter was, "mad that there were no Vale Tudo schools in Bahia after fighting the previous week in Rio. I had to "settle" for the only thing Bahia had to offer, Capoeira." Contra-Mestre Gaivota trained under Mestre Cigano (now in Porto Seguro) from Grupo Liberdade in Newark. "I am blessed that I have the responsibility to take my group, Capoeira Guerreiros, in a direction that I choose. As an educator my focus is on all aspects of the art. Movement, music, history, language and culture."
To learn more about Capoeira Guerreiros and the Afro-Brazilian Cultural Center, click here. To connect with the group on Facebook, click here.